46
eero Labs features and feedback thread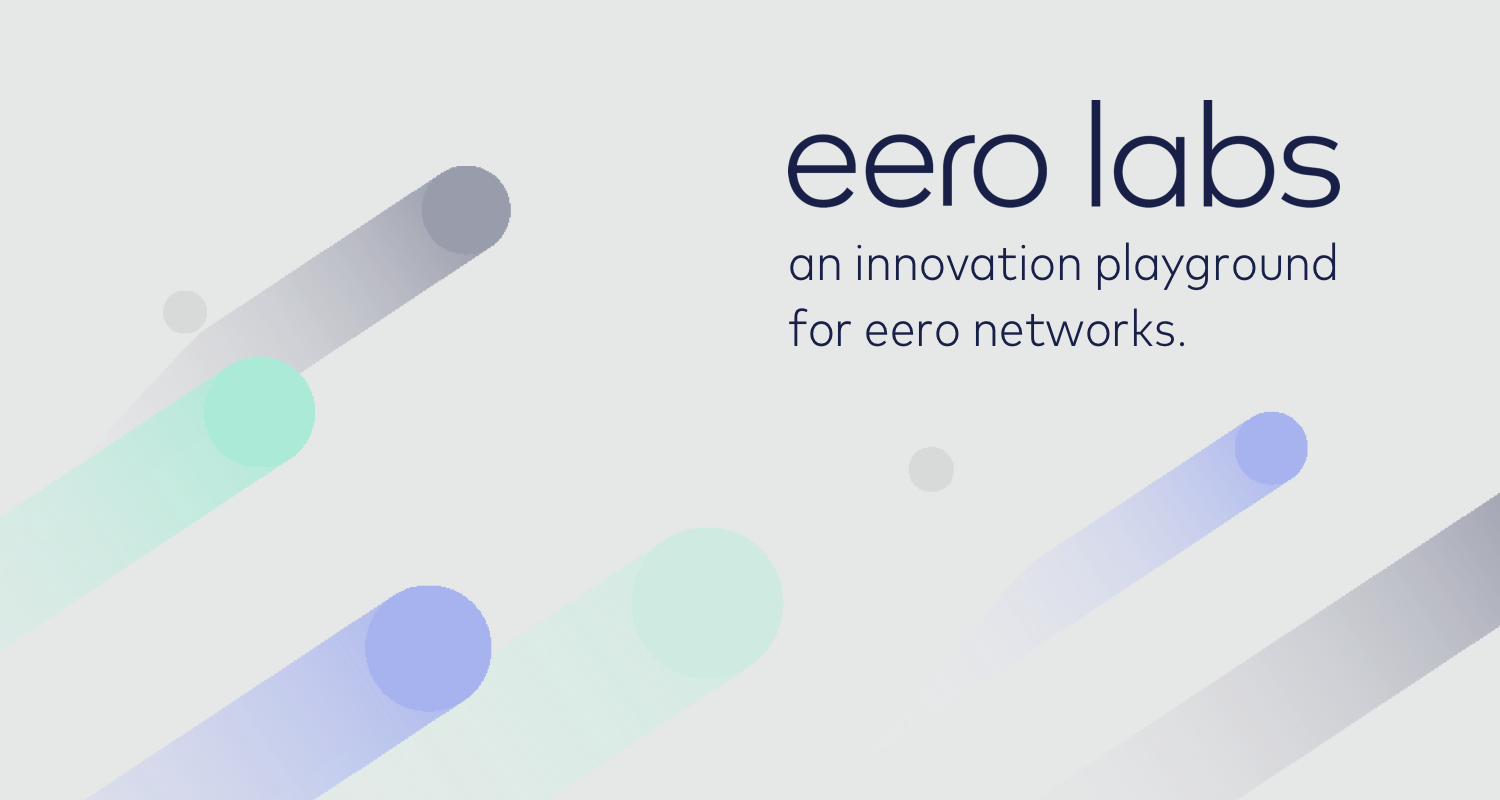 Welcome to the eero Labs features and feedback thread!
Here is your place to share your experiences with new eero Labs feature releases, as well as let us know the types of future concepts you'd like to see here. We encourage you to share your feedback and interact with others, as well as have an opportunity to interact directly with our developers.
While this section will be more focused on connectivity related features, you can also submit general feature requests here.
For more on eero Labs, visit the eero help center.
Fantastic stuff and this is one more pro consumer moves that separates Eero from its competitors.

Band steering is just what I wanted.

Some of my wild wishes for eero Labs:

Replace Google Thread (which is hardly used by anyone outside Google) with Bluetooth mesh networking
Profile that can throttle bandwidth (or at least deprioritize)
If Internet is down, allow LAN to operate even after eero restarts (such as recovering from power outage)
This is more mobile app feature, and it may not be technically possible. But it would be awesome if the app (perhaps as macOS and Windows helper app?) can be used to figure out optimal places to install additional eero units.

This is why I bought into the eero system. I use a VPN for work and it seem to have problem when the Smart Queue Management is turned on. Thanks for looking into this.

Would love to see a feature that limits the usage of a particular IP address or device maybe based on hour of usage, like on a child's laptop, they are limited to 5 hours a week and then they can no longer access the internet.

I enjoy the new features as well.

My only request would be a proprietary VPN connection. One that can ask eero servers what my dynamically assigned IP is using my account credentials and establish a secure 256 bit encrypted tunnel from my devices.

The need is is mostly based around both personal and business. Personal to have a secure connection to an internal NAS. Business would benefit going on vacation and accessing my company workstation securely.

I like the partner feature of Encrypt.me for safely browsing while on public resources, but would rather not have to rely on a service such as Synology for VPN when I feel an eero solution would be far more fitting even as an additional paid service.

Nest Outdoor Cam glitch running with eero SQM...

This afternoon at about 3:45 each of my four outdoor Nest cams went offline for a minute or two. Not sure why. In Canada, Nest outdoor cams are not allowed to run at 5ghz so they are defaulted to 2.4. I have no control over the frequency.

I cannot blame the glitch on the new eero Labs features, but it's the first time ever that my Outdoor cams have disconnected - only thing that has changed is that I've enabled SQM. My indoor Nest cams (running at 5ghz) were not affected, so it seems it affected only 5 ghz cams. I know they were affected by the recorded history .

Figured I'd mention it in case others have similar issues. Cannot day it's eero SQM yet but just exploring ...

Smart Queue Management Beta Feedback

I run multiple Xbox 1 on my eero network, so the feature sounded beneficial and I tried running it for 3 days. Unfortunately it needs work and I needed to turn it off.

- I am getting data corruption on downloads. It took me 5 attempts to get a relatively small game update (~100MB) to successfully download without corruption.

- Had a similar problem with a 4.7GB Xbox system update, corrupted and couldn't pass data validation, turned off Smart Queue and worked fine.

First time I had ever experienced this type of issue on eero.

- My son has been experienced several drops a day in Internet that would boot him off the game and had to restart.

Removing Smart Queue seems to have helped.

A feature to lock an device to a certain eero and frequency would be great. Sometimes my consoles swap (get swapped) to a further eero base station or go from 2.4 to 5 GHz range. That change during a game kicks you out. I would like to be able to tie a console (doesn't move) to a specific eero and range (2.4 GHz is plenty of bandwidth for on line gaming and much stronger - as you know)

Hey guys - love the idea of SQM. Have had it on for a week or so with no issues except today, while downloading three large files (about 2GB each) the transfer randomly slowed to 43kbps at about 50% completion. I stopped the transfer and started over, no luck. I turned off SQM and started the transfer over and back to full speed. Just wanted to contribute in case it helps with tuning this feature. This occurred on an iMac running Transmit, connected to a beacon.

Thank you so much for all the great work!!

Would it be possible in the future to add an option called eero profile?

Like the family profiles?

Where you could select one of the eero's to go offline from 20:00 until 07:00 am?

I say this because during the night I would love tobe able to disable one or two eero's.

Thank you!

I enabled band steering yesterday on my first-gen, three-pack system but had to turn it off after an hour. Enabling band steering seemed to force all my Nest cameras to connect to the same eero in my house. That was fine for three of the cameras, which are relatively close to that eero. However, one of the cameras is on the other side of the house from that eero and the camera was trying to maintain a 5 GHz connection to the eero that is furthest away from it (a double whammy). For the next hour, I watched as the camera would be online for a few minutes and then offline for 10 to 15 minutes. There was seemingly nothing I could do to make that camera to connect to the eero that is within 15 feet of it. I turned band steering off and the camera immediately connected to the eero that is 15 feet away from it.

Found a potential issue with the Smart Queue feature.

I'm assuming that the feature itself uses the detected bandwidth to manage and regulate client bandwidth consumption which is pretty normal for any QOS/QOS-like features. The problem is the mechanism for the running the bandwidth speed test is seemingly constrained by the system itself.

I just updated my connection speeds to double what I had and the internal speed tests were not reflecting the change. When doing speed tests on both wired and wireless clients, the speeds mirrored what was showing in the app and was limited to the last detected slower speed before the upgrade. It wasn't until I disabled the Smart Queue feature and let the internal speed test run was it then able to detect the faster speeds and allow all of my clients to show bandwidth updates.

This was especially an issue since the installer asked me to do a speed test and was showing no change in internet speeds and I mentioned to him that there's no way it could be the Eero and then proceeded to prove myself wrong.

My recommendation:

- Allow a Smart Queue whitelist to allow any client or destination to bypass the queue. This will essentially enable a prioritization feature which would be more in line with traditional QOS and probably greatly appreciated by everyone including myself.

- Add the internal speed test mechanism to this whitelist.

- Add any bandwidth speed testing domains to the whitelist. This is probably insanely difficult to do so you're probably better off adding a disclaimer to the feature that mentions that any speed tests done on client computers may be affected by Smart Queue.

Hope that helps!

FOO

eero Plus is slightly ahead in testing ...

Have been experimenting with eero Activity Centre / Labs activated vs disabled.

There is a small but measurable positive difference having eero Band Steering, DNS caching, and SQM enabled VS. having eero in Bridge Mode through a Bitdefender Box2 with SQM and DNS caching disabled. There are Nest cam disconnects on both, but the eero features are a bit smoother than the Bitdefender ones.

Things are generally stable under both systems, but eero Plus and labs seems to be slightly ahead, at least in my testing. Mac HomeKit also is slightly more stable with LIFX bulbs having less disconnects.

Devices: 10 Nest cams (5 outdoor running at 2.4), 19 LIFX bulbs, variety of Apple HomePods / Google Homes etc. 60+ devices being pushed against eero at any given time.

I don't think local dns caching is working for me...unless I am failing to understand how it works. My assumption is that the eero would point dns to my gateway eero which in my case is 192.168.1.1. However, with it switched on, all my clients are still pointed to 1.1.1.1 cloudflare dns. Is anybody else seeing this behavior?

Everything eero and Eero Plus have to offer has been active here for several days and things appear stable. Couple quirks but probably not related to eero...

1) Some LIFX bulbs become unresponsive randomly through the day. Smart bulbs have some way to go before they become stable on any router. I believe same happens for Phillips Hue bulbs. Maybe it's because I have 60+ devices going at any given time. Only solution is to power cycle the bulbs.

2) One of my Nest cams persistently tries to connect to the furthest of the 6 eeros in the house. Dunno why. Signal turns 1-2 bars yellow, then 3 bars green, back to yellow etc. Probably the signal is just strong enough to keep the connection from switching to a closer eero. There is an eero about 10 feet from it tho. Such is life. Will have to power cycle it.

3) Good news: I have two Apple HomePods working as a stereo pair in a room. They both connect to different eeros - but they run as a stereo pair without a hitch. Fantastic stereo and sound. Amazing how they work well with the eero routers, which in turn ensure smooth delivery :)

SQM seems to work well in my household...we have between 35 - 45 devices connected and 6 - 10 devices actively streaming or using significant bandwidth. My ISP provides 400/20 speed.

I understand from reading posts on reddit, that SQM uses the daily speed test to determine how SQM meters out bandwidth. As my test seems to take place every evening at 9:30 PM (peak usage time) my speeds vary pretty widely ranging from 320 to 460. My suggestion would be for SQM to use some sort of weighted average to determine the bandwidth available. Since the app already stores the last 30 speed tests, why not do the following:

1. Have a place for a user to input the expected speeds from their current ISP.

2. Use the average speed for the past 7 days, throwout the top and bottom tests, use the average and compare to expected speeds from ISP to determine how SQM manages user usage.

Without using some sort of average and SQM is either very effective or behaves badly because of a speed test that occurs during peak hours where variance are to be expected.

Just wanted to add that I think the Eero folks are crushing it lately - sure, there's more to do and all that, but wow -- the labs stuff and the greater insights within the app (like seeing what gadgets are connected to which Eeros) are super cool, nice work! I continue to recommend Eero to folks and am excited for what comes next.