46
eero Labs features and feedback thread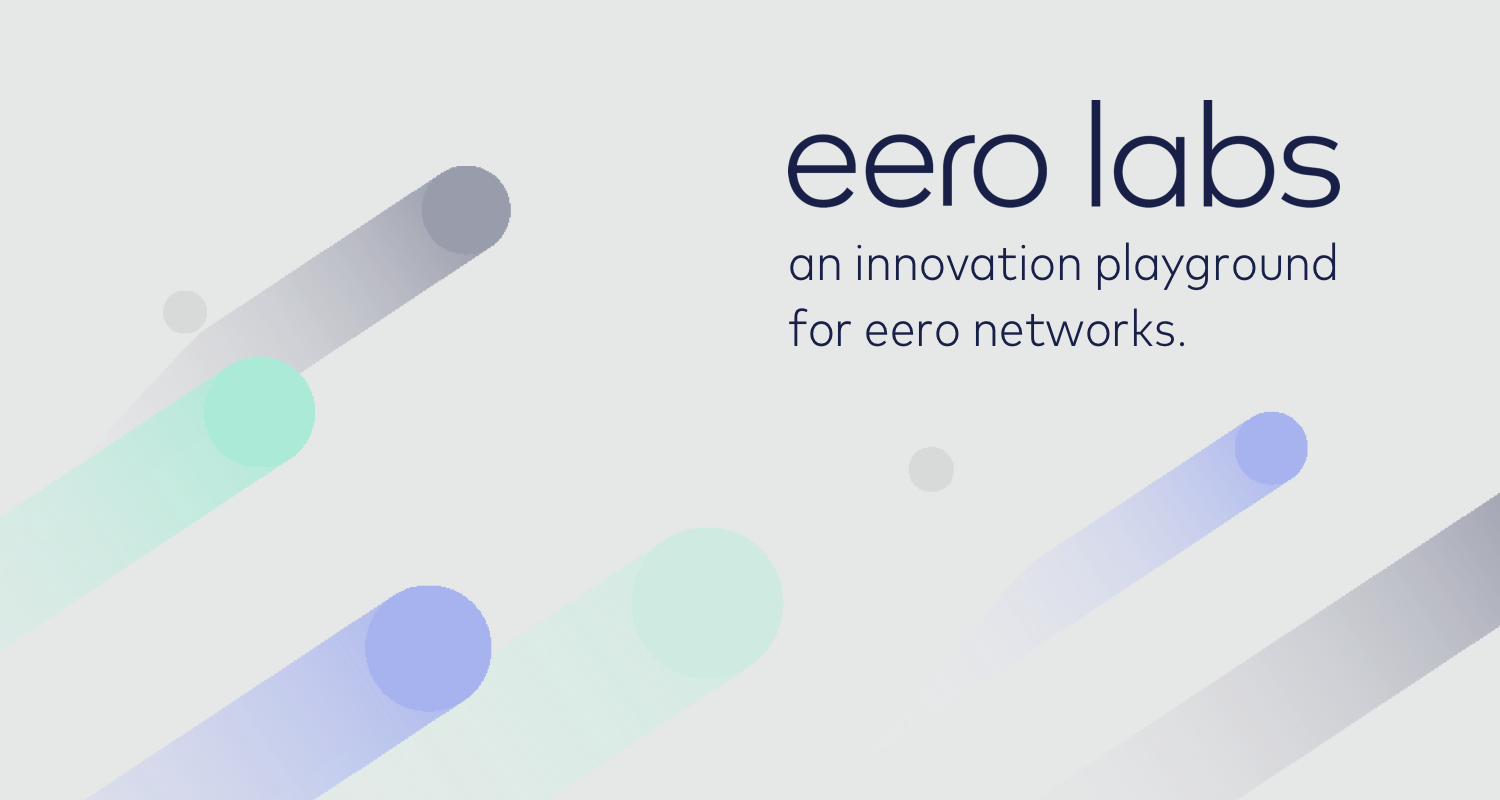 Welcome to the eero Labs features and feedback thread!
Here is your place to share your experiences with new eero Labs feature releases, as well as let us know the types of future concepts you'd like to see here. We encourage you to share your feedback and interact with others, as well as have an opportunity to interact directly with our developers.
While this section will be more focused on connectivity related features, you can also submit general feature requests here.
For more on eero Labs, visit the eero help center.
I have changed over to the new BETA systems on my EERO and noticed that when I have selected the Local DNS Caching - that when I tried to access the internet on my laptops that I've been blocked and have no connection - telling me that my DNS has an issue. Is there something I need to change on my laptop browser software when I select this feature on EERO ?

I enabled all three eero Labs features. The only one that seems to cause me any issues is the Smart Queue Management. When I have SQM enabled it causes issues with the streaming of DIRECTV Now, to the point where it's almost unwatchable. It didn't seem to have an effect on any other streaming service, or with anything else that utilizes my network. I've turned SQM off for now. I got tired of hearing my other half say "FIX THIS TV!!!" DIRECTV Now is working flawlessly with SQM turned off.

I'm not sure that DNS caching is respecting the custom DNS settings (OpenDNS) that I have under v.3.9.1-3, as I notice with DNS caching enabled, instead of returning the expected NXDOMAIN response for a failed lookup I'm directed to my ISP's hijacked DNS search assistance page (Verizon FIOS) which would indicate it's just taking the ISP's provided DNS entries.

Disabling caching, when the dhcp lease sets my custom DNS entries a failed lookup returns the expected NXDOMAIN response

I know the content blocking is not in the Labs section but this seemed to be the best place to talk about ad blocking since it is in beta.

It is great! I love this feature, but it has caused me issues on CBS.com because it blocks the commercials so you can't watch the shows. Would it be possible to add a while list to this feature?

Local DNS Caching work? I am running into a problem and want a better understanding of how this works.

do individual hosts on the network contribute to the local DNS cache? For instance if I edit a hosts file on a local machine and that machine locally resolved the Hosts file value vs the DNS value. Does that get added to the Local DNS cache for the network?

Eero Labs features have certainly impressed me and my uses on the network however it should be noted that I was able to narrow down an issue with Smart Queue Management causing issues with "Hey Siri" enabled devices communicating and responding. Where HomePod is meant to take over in most cases, the devices would just quit trying as if they all assumed the other device would complete to request. Turning off Smart Queue Management resolve the issue after trying some other solutions.

Eero Labs request (that turns into regular feature).. I would really like to see an overall ISP network bandwidth usage when in the App. This would be multi-faceted, and allow to see in one view a list of all active devices and their current external internet usage since a certain time. Ideally, there would be a way to filter 'WAN usage since X date". Also a global few of WAN usage since a date.

Thanks!

Hey guys, brand new eero user here. So far loving the mesh wifi, even though it is prob overkill for my 750sq ft apt, ha. It is an old building with lots of plaster, lots of competing neighbors' wifi, and the floor plan is like a long railway car... my old (very good) Asus router couldn't get a reliable signal to the far end with the kitchen, bathroom and laundry area, even on 2.4ghz. Since installing the eero gateway by the modem and setting up one beacon in the kitchen, I have flawless wifi coverage everywhere, and to my delight, getting the FULL speed of my connection, even in the farthest reaches of the apt.

One thing regarding eero labs features: I toggled on all three beta features the other day, and noticed that SQM seemed to slow speeds (according to speedtest.net) on all my devices by about 10%. When I turned the feature off, speeds immediately returned to the full strength they were before. I prob don't need SQM anyway, but just thought I'd add this here.

I'm uploading about 30 GBs to my iCloud drive today. Internet access of all types on all the other devices on my network was a miserable experience this morning. On a whim, I turned on Smart Queue Management. The improvement was drastic and immediate. All other device network access returned to normal. Streaming video from the Apple TV was no longer an adventure in spinning loading icons. And my cloud upload is soldiering onward at nearly the same upload rate (right around the max advertised by my ISP) as before.

Three cheers for Smart Queue Management!

Please go a step beyond band steering and add eero steering: the mesh steers each client to the eero with the strongest signal. The current state permits a client to connect to a strong signal, move to the edge of that device's range, and stay connected with a weak signal. Eero should instead push that client to another access point.

I've been using OpenDNS with Eero for parental controls and see that my home generates about 400k lookups a month on average. I thought I'd try the beta dns caching feature to reduce that and improve performance. After turning it on, I see I am doing about 800k lookups / month with about half of them being a looking of cdn.samsungcloudsolution.com. It looks like that lookup is not working and so my Samsung TV retries over and over. Any advice?

Looking at the DNS caching, this doesn't seem to work at all. Firstly, clients still get two DNS addresses: one of the Eero gate itself, and the other of my ISP. So only some queries (that would be pointed to the gate would be cached) but even that's not the case: I tried little bash script dnstest which should show significantly faster response time second time around for cached queries, but that's not the case. In fact, appears slower than my ISP's DNS on 176.52.219.3...

(192.168.4.1 is Eero gateway).

test1 test2 test3 test4 test5 test6 test7 test8 test9 test10 Average

cloudflare 18 ms 19 ms 16 ms 20 ms 30 ms 19 ms 24 ms 20 ms 22 ms 15 ms 20.30

176.52.219.3 18 ms 22 ms 18 ms 18 ms 17 ms 19 ms 16 ms 39 ms 18 ms 21 ms 20.60

192.168.4.1 21 ms 58 ms 27 ms 36 ms 29 ms 21 ms 20 ms 27 ms 24 ms 32 ms 29.50

norton 28 ms 33 ms 46 ms 26 ms 28 ms 31 ms 27 ms 27 ms 29 ms 27 ms 30.20

comodo 32 ms 50 ms 35 ms 29 ms 24 ms 28 ms 30 ms 41 ms 29 ms 30 ms 32.80

google 23 ms 34 ms 41 ms 37 ms 41 ms 40 ms 25 ms 37 ms 21 ms 43 ms 34.20

level3 35 ms 35 ms 29 ms 34 ms 27 ms 28 ms 27 ms 28 ms 27 ms 98 ms 36.80

Tried the new WPA3 support, but found that devices were constantly falling off the network. When I attempted to disable, several of my Eeros got stuck in a red light mode. After waiting 10-15 minutes, I pulled the plug on each and the network came back up. Then I went back into the app and found WPA3 still enabled. I disabled a second time and the slider now has stayed off. Looks like this might be a little too bleeding edge for my network when we're all working at home.

I enabled band steering and immediately got problems with all my Chromecast devices including the Google Home Mini (Every device with Chromecast technology). All of them had connection to the network and internet but I couldn't stream anything to the devices when my phone or tablet were connected to the same AP (I have 7 Eero newest generation in my Home). When my phone switches to another AP there is no problem.

When band steering is of everything works fine.

Btw keep up the good work!